Moses the Lonely Londoner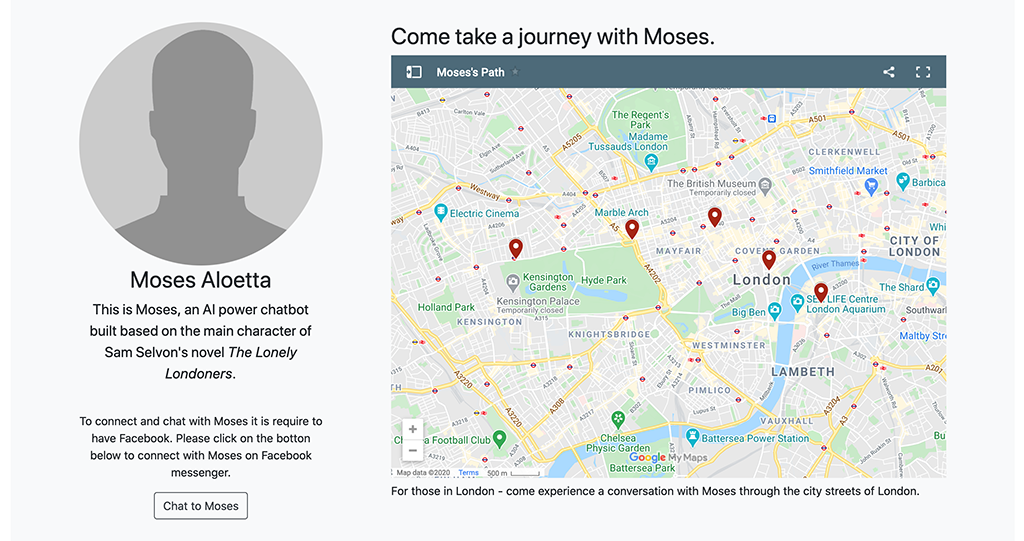 Moses the Lonely Londoner is a project set on investigating the concept of intimate digital spaces, namely that of the telecocoon which was first detailed in Japanese teen keitai culture as an invisible space of intimacy linked together by an individual's mobile device.
The project takes inspiration from author Sam Selvon's novel The Lonely Londoners and makes manifest its main character, Moses Aloetta, through the use of Artificial Intelligence. Drawing parallels between the loneliness expressed in Selvon's 1950s London and the notions of isolation propelled by Social Media, users are invited to connect with Moses on their mobile device and enter his telecocoon.
This project was exhibited in the Photographers' Gallery as part of the exhibition "For the Time Being", and was commissioned by the Royal College of Art in partnership with the Photographers' Gallery.
For the Time Being was a group exhibition curated by six postgraduate students seeking to explore the shifting responsibilities of institutions in this networked age, as part of the MA Curating Contemporary Art Programme Graduate Projects 2019 at Royal College of Art, London. The exhibition was produced in collaboration with The Photographers' Gallery in May 2019.
Links…